Sesuai request dari salah satu komen drama Love Rain, kali ini ciebal akan share dorama baru lagi yaitu King 2 Hearts. Saya sendiri baru nonton 2 episode dan cerita nya cukup menarik dan lucu apalagi Ha Ji Won disini cantik banget.
Drama ini mengisahkan cinta antara dua negara yang biasanya saling berselisih yaitu seorang pangeran dari Korea Selatan (Lee Seung Gi) yang jatuh cinta dengan agen khusus korea utara (Ha Ji Won), mereka dipertemukan dalam misi pelatihan khusus korea selatan dan utara.
Doh, belum bisa cerita banyak soalnya belum ditonton semua (takut penasaran)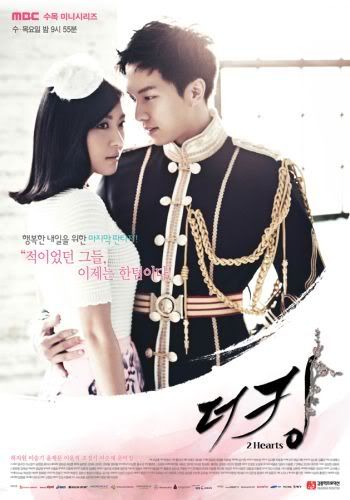 Details
Title:The King 2Hearts / 더킹 투허츠
Previously known as:더킹 (The King) / 킹2hearts (King 2 Hearts)
Genre: Romance, comedy
Episodes: 20
Broadcast network: MBC
Broadcast period: 2012-Mar-21 to TBA (Replacing The Moon Embracing The Sun)
Air time:Wednesday & Thursday 21:55
Director:Lee Jae Kyu
Screenwriter:Hong Jin Ah, Hong Ja Ram
Cast
Lee Seung Gi as Lee Jae Ha
Ha Ji Won as Kim Hyang Ah
Jo Jung Suk as Eun Si Kyung
Lee Yoon Ji as Lee Jae Shin
Yoon Jae Moon as Kim Bong Gu
Lee Soon Jae as Eun Gyu Tak
Yoon Yeo Jung
Extended Cast
Kwon Hyeon Sang
Yeom Dong Heon
Park Geon Tae
Ra Mi Ran
Lee Sung Min
MOHON MAAF, LINK DOWNLOAD SAYA HAPUS.
SILAHKAN KUNJUNGI LANGSUNG:
http://forum.indowebster.com/showthread.php?t=251683